Blogs – Did slightly worse than I thought, I need to update regularly to improve my grade, I think. Need to improve self-discipline and time management, I'm terrible at this.
Game production – Happy with my result, but want it to be on a similar level to VD by end of next year. I've learnt a lot in the last few months, I don't feel as desperately helpless as before whenever I open Max, but my 3d stuff has zero finesse. I'm still learning to build things.
VD – Happy with it, but needs much much more drawing. Should I upload work here still, or does it get tiresome to see it?


Got to the Summer Exhibition at the Royal Academy this Saturday with only an hour to see everything before the gallery shut~ I thought we could rush round, but it was so good we were pretty much escorted out of the Weston room by gallery staff. I think the theme was 'making space' this year – loved Anselm Kiefer's Tryptique, it's beautiful. I never get tired of natural materials.


Reminded me of this from the Turner Prize a few years ago, [bad photo of it] my favourite but it didn't win. Shed Boat Shed did, lol. Also, one of Georg Baselitz's amazing upside down paintings was there, but didn't have time to take photos. Lots of good typography stuff too, loved Michael Craig Martin 'DESIRE', though I can't find a pic of that one he's done things for the DLR, wow!






Also, this Liz Collini drawing amused me with all the little mathematical annotations.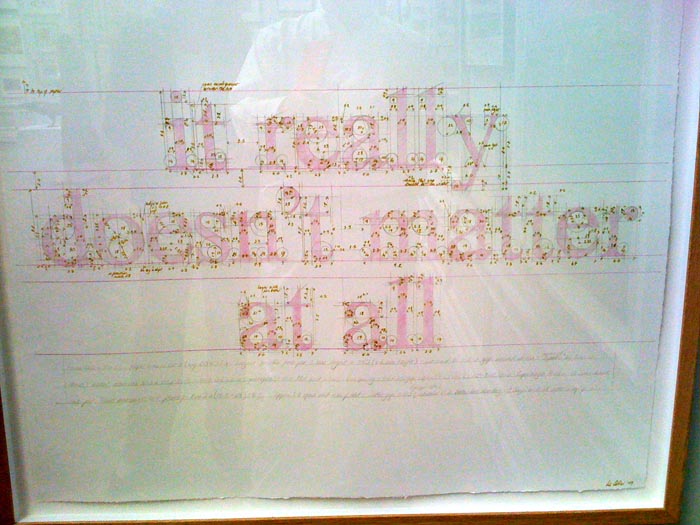 The architecture room was interesting, but had to run round it to get a look at everything. Loved the miniature landscape designs and models, it reminded me of the 3d work at art college which I was always pretty envious of. I can't build anything more graceful than oxo boxes tacked together.


Did not get chance to see the video room, which I believe is a new thing for this show. I feel bad, I always leave video/performance 'til last/low priority, though the last piece I saw were a set of documentary-style things by Darren Almond which set me and everyone else off bawwwing in the middle of the Tate.
The show was lots of fun, but impossible to do in one afternoon, let alone an hour. Next year I want to go to the Biennale~